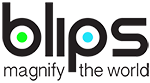 The unique set of mini-lenses for smartphones allowing you to see deep inside the micro-world
Up to four mini-lenses on flexible film which cleanly stick on your smartphone or tablet; entrance doors to the microscopic world for everyone. So thin that you can keep BLIPS inside you wallet or on your device, even in your pocket, without worrying to lose it. BLIPS works on all models of smartphones and tablets.
"The best way to put a microscope in your pocket"
The Verge
"These Blips lenses are a different story: They attach to your smartphone like a piece of tape, and are slim enough to carry alongside your credit cards."
Gizmodo
"From smartphone to microscope there will be a short way, thanks to Blips"
WIRED Italy
"The lens itself fails nothing. With a simple sticker, you can see the hidden world and it's impressive."
Science Illustrated Denmark
"Blips stick-on lenses turn your phone into a microscope and attach like a piece of tape, so they're slim enough to carry alongside your credit cards. Just peel off, stick on and magnify."
"We tested them over the past few weeks for a three hundred and sixty-degree evaluation on what turned out to be a simple, durable and quality product."
Macitynet.it

"…there are lenses that can be applied to the cellular phone, turning its camera into a powerful macro lens and even in a microscope of about a hundred magnifications"

Dailybest.it
No Limits to Imagination
Think big and discover a surprising microscopic world.
You will be amazed by what you can see!
Explore! You will love it.
You will love the simplicity with which you can explore an unknown world.
Choose Your Favorite
Gallery with the most beautiful images taken with blips.
Send your pictures, you will be part of our gallery!
Four Amazing Mini-Objectives
We carefully designed four lenses for great easiness of use and optical performance.
A link connecting the standard photography to the microscopy realm. By smartphone.

A First Step Into the Realm of Microscopy
We offer a selection of prepared microscope slides plus an appropriate light source and an easy assembling stage for smartphone. Use your smartphone with the BLIPS Micro or Ultra lenses and see the smallest details in transmitted light, like with digital microscope.

" I had the pleasure to test Blips Macro and Micro lenses with my smartphone. The product is well packaged and instructions are easy and very intuitive. Lenses can be positioned on any mobile phone thanks to the smart design of the lenses and support. I have used them to make some pics of electronic components, but I see possible applications on medicine and wherever exploration and reporting of quality surfaces is needed"
"Having an easy to use microscope in the pocket of your jacket opens a world of possibilities to observe the deeper details of Nature inners working in everyday life. I have been carrying Blips with me for some times now and I ended up pulling it out in many occasions for a quick glance (and picture) at otherwise hidden and fascinating phenomena. With its ease of use, portability and performance such a small object expands so much our vision that it is even difficult to forecast in how many ingenious and artistic ways it can be used."
"I have tested the Blips mini-lenses on my smartphone, and I was really impressed with the quality and the simplicity of the product. I have used Blips for macrophotographies of biological samples and the results were great. Compared to the standard bulky "clip-on" lenses, the Blips lenses are much lighter and handier. They are compatible with any smartphone or tablet and they are a very useful tool for any kind of close-up photography."
"I have tried the mini lenses on my smartphone and I discover a new source of details worth investigating… This is fun."
"I absolutely love my Blips lenses! I especially love taking pictures of flowers with mine!"
As a field archaeologist I'm always excited to use new equipment that is effective, compact, and also cheap. Having tested the Blips mini-lenses I can say that I am extremely impressed with their effectiveness and ease of use. Carrying a Blip lens will allow the user to rapidly take microscopic images in the field, at an extremely affordable price and without the need for any extra equipment. I have tested it on obsidian flakes tools as well as ceramic sherds.
It will not stand in for a laboratory microscope, but when was the last time you could take one of those to the field? I would recommend the Blip lens to anyone interested in close up photography.
The blips lenses are awesome! They are so easy to use, you just stick the micro or macro lens on your phone's camera (they literally are stickers) and you are ready to blip away. They are small and lightweight which allows you to have them always available, hence you never have to say again: "Oh I wish I had my camera with me". I have them in the back of my phone
I love taking pictures with an artistic flavor to them as a hobby. I especially like taking pictures of insects, flowers and skin. Blips allows you to take pictures with great zoom (micro mode) which otherwise would require a dslr with a special lense (if not a microscope). With blips, anyone can become an artist! It's so easy to take beautiful, artistic pictures!
"…the versatility of the blips lenses can open a world of possibilities to smartphones!…"
Available, get your favourite BLIPS kit here!
The first version of BLIPS was launched in 2016 with a very successful Kickstarter campaign.
More than 5000 backers, in only 45 days, supported this project.